Global Health Initiatives
Dalhousie Department of Anesthesia, Pain Management and Perioperative Medicine faculty members have a strong history of global engagement and outreach. Ours was the first department in North America to offer education and training to anesthesia professionals practicing in developing countries. Faculty members have participated in training missions to Africa and conducted research in Asia, Africa, and the Middle East.
University of Rwanda Partnership
Anesthesia Postgraduate Teaching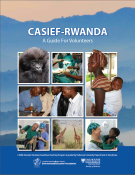 Through the Canadian Anesthesiologists Society International Education Foundation (CASIEF) program in Rwanda, staff anesthesiologists and residents from the department travel to Rwanda annually to provide education, training and support to postgraduate residents and nurse anesthetists. IKINYA (2010) is a 23-minute film about Canadian volunteers helping to run the anesthesia training program in Rwanda. To view IKINYA, please click here.
For those interested in learning more about, or becoming involved in, the CASIEF-Rwanda project, please review CASIEF-Rwanda: A Guide for Volunteers.
Rwandan Resident Program - Dalhousie Elective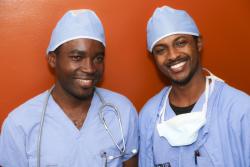 Since 2010, six Rwandan anesthesia residents have participated educational electives hosted by Dalhousie University in Halifax, Nova Scotia. The program, directed by Dr. Patty Livingston, flows out of the ongoing partnership between CASIEF, Dalhousie and University of Rwanda which aims to develop sustainable excellence in anesthesia in Rwanda. Most recently, Dr. Isaac Nshimyumuremyi and Dr. Gaston Nyirigira completed a 3.5 month observership during which they gain firsthand experience of how anesthesia care is delivered in a Canadian healthcare environment. According to CASIEF Board Chair, Dr. Franco Carli, "thanks to the efforts of Dr. Livingston and the team at Dalhousie, two more residents are returning to home with great strength and self confidence to build a group of outstanding individuals who are leaders of anesthesia in Rwanda."
SAFE Obstetrical Anesthesia Course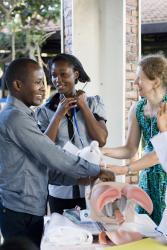 The SAFE Obstetric Anesthesia Course is a three-day refresher course developed by the Ugandan Society of Anaesthesia, the Association of Anæsthetists of Great Britain and Ireland (AAGBI), and the World Federation of Societies of Anæsthesiologists (WFSA) to improve the skills of anesthesia providers for management of obstetric patients in low-resource countries. It was specifically designed to equip anesthesia providers, many of whom work in isolated and under-resourced environments, with a systematic approach to routine and emergent obstetrical anesthesia challenges.
The Dalhousie team coordinated with partners at University Rwanda to hold the first SAFE Obstetric Anesthesia Course in Rwanda in January 2013. This course trained over 120 anesthesia providers. A second course is scheduled for November 2013.
UR Faculty of Medicine Simulation and Skills Centre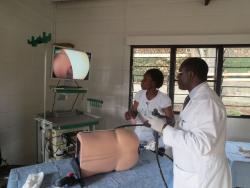 Building on a well-established partnership in anesthesia training and skill development, the Faculty of Medicine Simulation and Skills Centre (FOMSSC) project aims to enhance clinical skills and will make a direct impact on the ability of Rwandan healthcare providers to improve the health of the Rwandan people.
The first of its kind in Rwanda, the FOMSSC promotes and enhances patient safety and effective clinical care through experiential learning and simulation-based education in technical and non-technical skills in anesthesia, surgery, obstetrics, pediatrics, internal medicine, emergency medicine and nursing.
Dr. Patty Livingston led the establishment of the FOMSSC at the University of Rwanda. She received a Rising Stars in Global Health grant from Grand Challenges Canada to help fund the project, which is multi-pronged and includes research and evaluation components. A research study, "Low-fidelity simulation to teach anesthetists' non-technical skills in Rwanda" is underway.
Kybele…for safe childbirth worldwide (Ghana Partnership)
Some Dalhousie faculty are supporters of Kybele, a non-profit humanitarian organization dedicated to improving childbirth safety worldwide through educational partnerships. The role of Kybele is to bring professional medical teams into host countries, to work alongside doctors and nurses in their home hospitals, to improve healthcare standards. Kybele volunteers model teamwork and compassion in real life and death situations, sharing knowledge when it matters the most. Maternal and newborn mortality rates remain alarmingly high in sub-Saharan Africa because disparity exists between known best practices and healthcare services that are typically available. A country of focus for Kybele has been Ghana, in West Africa. It is imperative to strengthen healthcare institutions and train facility personnel in Ghana to prevent the needless loss of maternal and newborn life. Kybele, began a cost-sharing partnership with the Ghana Health Service (GHS) to significantly reduce childbirth mortality. A "Center of Excellence" model was jointly created blending clinical training with cross-cutting leadership and continuous quality improvement skills to increase operational capacity and efficiency. As a result, the institutional stillbirth and maternal mortality rates decreased by 23% and 52% overall, and an estimated 224 maternal deaths were averted. Through development and deployment of the Kybele model, institutional capacity to provide obstetric and neonatal services improved, without staff increase or infrastructure modification.
For more information about the Global Health Initiatives, please contact:
Megan Chipp
Global Health Coordinator
megan.chipp@dal.ca
Phone: 902.473.5428
Global Health Fellowship
The Dalhousie Department of Anesthesia, Pain Management and Perioperative Medicine has established a Global Health Fellowship and is seeking exceptional candidates. The goal of the fellowship is to prepare anesthesiologists for careers in global health work. It also aims to equip fellows with the needed tools to establish an anesthesia training program in developing countries.
For more information about the fellowship, please read the fellowship web page, or contact:
Laura Harris Buffett
Managing Director of Education
Laura.HarrisBuffett@nshealth.ca
Phone: 902.473.8883